By Ron Liskey | October 17, 2017
Fire and Ice
Some say the world will end in fire,
Some say in ice.
From what I've tasted of desire
I hold with those who favor fire.
But if it had to perish twice,
I think I know enough of hate
To say that for destruction ice
Is also great
And would suffice.
— Robert Frost
A City's Death By Fire
After that hot gospeller has levelled all but the churched sky,
I wrote the tale by tallow of a city's death by fire;
Under a candle's eye, that smoked in tears, I
Wanted to tell, in more than wax, of faiths that were snapped like wire.
All day I walked abroad among the rubbled tales,
Shocked at each wall that stood on the street like a liar;
Loud was the bird-rocked sky, and all the clouds were bales
Torn open by looting, and white, in spite of the fire.
By the smoking sea, where Christ walked, I asked, why
Should a man wax tears, when his wooden world fails?
In town, leaves were paper, but the hills were a flock of faiths;
To a boy who walked all day, each leaf was a green breath
Rebuilding a love I thought was dead as nails,
Blessing the death and the baptism by fire.
— Derek Walcott
Fire Bombing of Dresden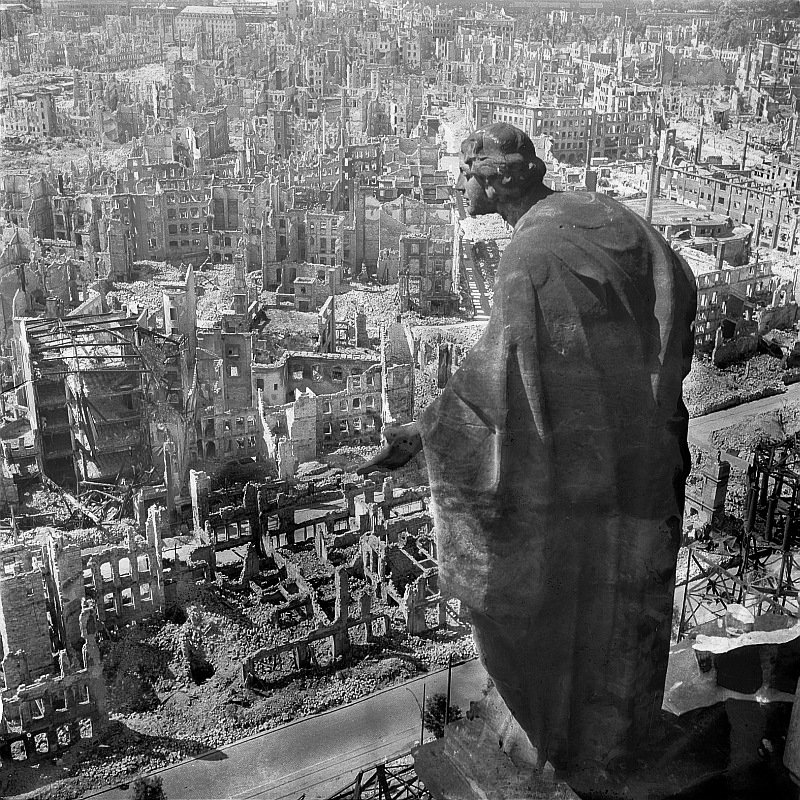 — UK and US Bombers
Fire On The Hills
The deer were bounding like blown leaves
Under the smoke in front the roaring wave of the brush-fire;
I thought of the smaller lives that were caught.
Beauty is not always lovely; the fire was beautiful, the terror
Of the deer was beautiful; and when I returned
Down the back slopes after the fire had gone by, an eagle
Was perched on the jag of a burnt pine,
Insolent and gorged, cloaked in the folded storms of his shoulders
He had come from far off for the good hunting
With fire for his beater to drive the game; the sky was merciless
Blue, and the hills merciless black,
The sombre-feathered great bird sleepily merciless between them.
I thought, painfully, but the whole mind,
The destruction that brings an eagle from heaven is better than mercy.
Fire On The Hills
— Robinson Jeffers
Armies In The Fire
The lamps now glitter down the street;
Faintly sound the falling feet;
And the blue even slowly falls
About the garden trees and walls.
Now in the falling of the gloom
The red fire paints the empty room:
And warmly on the roof it looks,
And flickers on the back of books.
Armies march by tower and spire
Of cities blazing, in the fire;–
Till as I gaze with staring eyes,
The armies fall, the lustre dies.
Then once again the glow returns;
Again the phantom city burns;
And down the red-hot valley, lo!
The phantom armies marching go!
Blinking embers, tell me true
Where are those armies marching to,
And what the burning city is
That crumbles in your furnaces!
— Robert Louis Stevenson
Ballad By The Fire
Slowly I smoke and hug my knee,
The while a witless masquerade
Of things that only children see
Floats in a mist of light and shade:
They pass, a flimsy cavalcade,
And with a weak, remindful glow,
The falling embers break and fade,
As one by one the phantoms go.
Then, with a melancholy glee
To think where once my fancy strayed,
I muse on what the years may be
Whose coming tales are all unsaid,
Till tongs and shovel, snugly laid
Within their shadowed niches, grow
By grim degrees to pick and spade,
As one by one the phantoms go.
But then, what though the mystic Three
Around me ply their merry trade? –
And Charon soon may carry me
Across the gloomy Stygian glade? –
Be up, my soul! nor be afraid
Of what some unborn year may show;
But mind your human debts are paid,
As one by one the phantoms go.
ENVOY
Life is the game that must be played:
This truth at least, good friend, we know;
So live and laugh, nor be dismayed
As one by one the phantoms go.
Ballad By The Fire
— Edwin Arlington Robinson
Fire-Flowers
And only where the forest fires have sped,
Scorching relentlessly the cool north lands,
A sweet wild flower lifts its purple head,
And, like some gentle spirit sorrow-fed,
It hides the scars with almost human hands.
And only to the heart that knows of grief,
Of desolating fire, of human pain,
There comes some purifying sweet belief,
Some fellow-feeling beautiful, if brief.
And life revives, and blossoms once again
— Emily Pauline Johnson
Forever Autumn
The summer sun is fading as the year grows old
And darker days are drawing near
The winter winds will be much colder
Now you're not here.
I watch the birds fly south across the autumn sky
And one by one they disappear.
I wish that I was flying with them
Now you're not here
Like a song through the trees you came to love me
Like a leaf on a breeze you blew away
Through autumn's golden gown we used to kick our way
You always loved this time of year.
Those fallen leaves lie undisturbed now
Cause you're not here
Like a song through the trees you came to love me
Like a leaf on a breeze you blew away
A gentle rain falls softly on my weary eyes
As if to hide a lonely tear
My life will be forever autumn
'Cause you're not here!
— Gary Anthony Osborne, Jeff Wayne, Paul Anthony Vigrass
The Night-Fire
No engines shrieking rescue storm the night,
And hose and hydrant cannot here avail;
The flames laugh high and fling their challenging light,
And clouds turn gray and black from silver-pale.
The fire leaps out and licks the ancient walls,
And the big building bends and twists and groans.
A bar drops from its place; a rafter falls
Burning the flowers. The wind in frenzy moans.
The watchers gaze, held wondering by the fire,
The dwellers cry their sorrow to the crowd,
The flames beyond themselves rise higher, higher,
To lose their glory in the frowning cloud,
Yielding at length the last reluctant breath.
And where life lay asleep broods darkly death.
— Claude McKay
Sonnet 45: The Other Two, Slight Air And Purging Fire
The other two, slight air and purging fire,
Are both with thee, wherever I abide;
The first my thought, the other my desire,
These present-absent with swift motion slide.
For when these quicker elements are gone
In tender embassy of love to thee,
My life, being made of four, with two alone
Sinks down to death, oppressed with melancholy;
Until life's composition be recured
By those swift messengers returned from thee,
Who even but now come back again, assured
Of thy fair health, recounting it to me.
This told, I joy; but then no longer glad,
I send them back again and straight grow sad.
— William Shakespeare
Fire
This life that we call our own
Is neither strong nor free;
A flame in the wind of death,
It trembles ceaselessly.
And this all we can do
To use our little light
Before, in the piercing wind,
It flickers into night:
To yield the heat of the flame,
To grudge not, but to give
Whatever we have of strength,
That one more flame may live.
— Dorothea Mackeller
Fire And Sleet And Candlelight
For this you've striven
Daring, to fail:
Your sky is riven
Like a tearing veil.
For this, you've wasted
Wings of your youth;
Divined, and tasted
Bitter springs of truth.
From sand unslaked
Twisted strong cords,
And wandering naked
Among trysted swords.
There's a word unspoken,
A knot untied.
Whatever is broken
The earth may hide.
The road was jagged
Over sharp stones:
Your body's too ragged
To cover your bones.
The wind scatters
Tears upon dust;
Your soul's in tatters
Where the spears thrust.
— Elinor Morton Wylie
To Some I Have Talked With By The Fire
WHILE I wrought out these fitful Danaan rhymes,
My heart would brim with dreams about the times
When we bent down above the fading coals
And talked of the dark folk who live in souls
Of passionate men, like bats in the dead trees;
And of the wayward twilight companies
Who sigh with mingled sorrow and content,
Because their blossoming dreams have never bent
Under the fruit of evil and of good:
And of the embattled flaming multitude
Who rise, wing above wing, flame above flame,
And, like a storm, cry the Ineffable Name,
And with the clashing of their sword-blades make
A rapturous music, till the morning break
And the white hush end all but the loud beat
Of their long wings, the flash of their white feet.
To Some I Have Talked With By The Fire
— William Butler Yeats
Fire And Rain
Just yesterday morning, they let me know you were gone.
Suzanne, the plans they made put an end to you.
I walked out this mornin', and I wrote down this song;
I just can't remember who to send it to.
I've seen fire, and I've seen rain.
I've seen sunny days that I thought would never end.
I've seen lonely times when I could not find a friend,
But I always thought that I'd see you again.
Won't you look down upon me Jesus?
You gotta help me make a stand.
You just got to see me through another day.
My body's achin', and my time is at hand.
I won't make it any other way.
Been walkin' my mind to an easy time,
My back turned towards the sun.
Lord knows when the cold wind blows,
it'll turn your head around.
Well there's hours of time on the telephone line
to talk about things to come:
Sweet dreams and flying machines
in pieces on the ground.
— James Tayler
Monk by the sea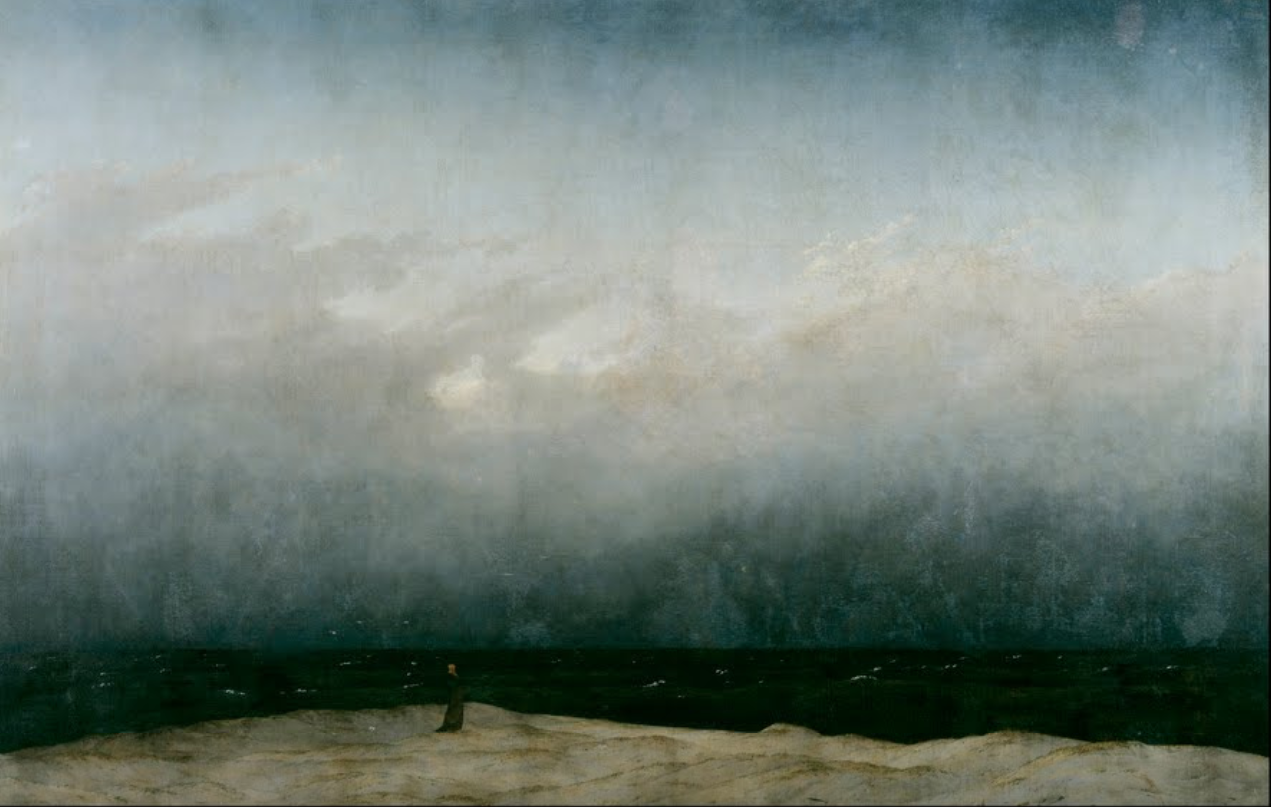 — Caspar David Friedrich (Painted 1808–1810)
Candle in the Wind, by Elton John
Goodbye Norma Jean
Though I never knew you at all
You had the grace to hold yourself
While those around you crawled
They crawled out of the woodwork
And they whispered into your brain
They set you on the treadmill
And they made you change your name
And it seems to me you lived your life
Like a candle in the wind
Never knowing who to cling to
When the rain set in
And I would have liked to have known you
But I was just a kid
Your candle burned out long before
Your legend ever did
Loneliness was tough
The toughest role you ever played
Hollywood created a superstar
And pain was the price you paid
Even when you died
Oh the press still hounded you
All the papers had to say
Was that Marilyn was found in the nude
And it seems to me you lived your life
Like a candle in the wind
Never knowing who to cling to
When the rain set in
And I would have liked to have known you
But I was just a kid
Your candle burned out long before
Your legend ever did
Goodbye Norma Jean
Though I never knew you at all
You had the grace to hold yourselfv While those around you crawled
Goodbye Norma Jean
From the young man in the twenty second row
Who sees you as something more than sexual
More than just our Marilyn Monroe
And it seems to me you lived your life
Like a candle in the wind
Never knowing who to cling to
When the rain set in
And I would have liked to have known you
But I was just a kid
Your candle burned out long before
Your legend ever did
Your candle burned out long before
Your legend ever did