By Ron Liskey | July 27, 2017
Academic Goals
Practice low-impact camping.
Working in small groups, independently prepare, cook and cleanup for all meals.
Explore unique volcanic areas, including Cinder Cone, Bumpass Hell, Devastated Area and Subway Cave.
Learn about the history and geology of Mt Lassen.
Learn about the plant and animal communities of the Mt Lassen area.
Learn orientation skills with topographical maps and a compass.
Observe the night sky, find the constellations, and learn star navigation.
---
School Guidelines for Chaperones and Drivers
We count on each chaperone to make our field trips enriching experiences for students. Chaperones act as assistant teachers/supervisors on field trips. Each volunteer is responsible for a small group of students.  We ask parents to participate actively in field trip supervision to help ensure that the children are on their best behavior.  To accomplish these goals, we ask volunteers to follow these guidelines:
General Guidelines
Be aware that teachers are required to abide by many federal, state and local regulations, not all of which seem to make sense in the moment.
Be aware that school field trips are part of our educational program, and are not simply family outings. Personal camping preferences and opportunities for fun may not be applicable.
Do not bring or use alcohol, tobacco, illegal drugs, or any other materials that are inappropriate for a youth group.
Coordinate closely with the teacher and other chaperones to ensure everyone is working from the same plan.
Support the academic goals of the trip, and focus on the tasks at hand.
Commit only to what you are willing and able to do, and meet your commitments.
Be punctual.
Leave pets and work concerns at home.
Avoid unrelated cell phone conversations in front of students.
Avoid gossip and other inappropriate forms of conversation.
Don't play favorites, or give special treats to specific students.
Avoid focusing exclusively on your own child.
Avoid becoming isolated from the group, and never become isolated from the group with only one child.
Immediately report all injuries and safety concerns to the teacher, even if they seem minor at the time.
Students may not use DEET insect repellent. If you see any student with DEET, confiscated it immediately. Chaperones may use DEET, and may apply it to students' clothes once they understand how to apply it safely. See detailed information below.
Unless prior arrangements have been made, stay for the entire trip.
---
Expectations for Chaperones and Drivers
Planning and Preparation
Complete required forms before the trip.

Submit updated vehicle insurance information to the school office. This must be done each year.
If attending an overnight trip, ensure that the school office has an approved LiveScan on file for you. The LiveScan process can take two weeks to complete.

Safety inspect your vehicle.
Attend the chaperone meeting. The meeting is scheduled for Thursday, August 24, 6:00 PM. Check the Class Calendar for last minute changes.
Preflight Check
Arrive at school on time, and go directly to the classroom so we can quickly complete last-minute departure tasks.
Read the Chaperone Packet, understand the route, and get answers to any important questions.
Keep a list of important cell phone numbers in case of emergency.
Enroute
Before driving away:

Be sure you have Emergency Medical Forms and prescription medicine for each student you transport.
Collect prescription medicine and equipment for each student you transport.
Be sure you have a printed copy of the Mt Lassen Vehicle Waiver.
Check that every student assigned to your vehicle is accounted for.
Do not seat young children in a passenger seat with an active airbag.
Require all students to remain buckled in their seat belts while the vehicle is in motion.
Wait for the teacher to confirm that all vehicles are ready before driving away.

Stick to the route.
Set a good example by obeying traffic regulations.
YOU decide if audio devices will be used, and if so what to play and how loud.
Require all students to maintain safe behavior. (Unbuckling seat belts while the vehicle is in motion, crawling around inside the vehicle, fighting, yelling, throwing objects, hanging things out the window, etc are not allowed and will result in a loss of future field trip privileges.)
Do not allow students to enter a place of business unless approved in advance by the teacher.
Ensure that the area is safe before allowing students to exit your vehicle.
Do not allow any student to exit your vehicle without your specific, individual permission.
Onsite
Support class activities as needed. For details, see the Itinerary.
Serve as a responsible mentor for your assigned student group.
Ensure a safe and fun trip for all by helping every student abide by essential safety rules.
Do not become isolated from the group.
Return
Before driving away:

Be sure you have the Emergency Medical Forms and prescription medicine for each student you transport.
Check that each student assigned to your vehicle is accounted for.
Do not seat young children in a passenger seat with an active airbag.
Require all students to buckle their seat belts while the vehicle is in motion.
Wait for the teacher to confirm that everyone is loaded and all vehicles are ready.

Stick to the route.
Once you return to school, do not release students until the teacher or assistant teacher has arrived.
---
Recommended Route
---
Route 44 Detail Map
Directions
Take CA-12 toward Napa
At the CA-121 T, turn right to stay on CA-12 East
Cross over the Napa River and continue on CA-12 East
Turn left onto Lincoln Highway/CA-12 East
Merge onto I-80 North toward Vacaville
Near Vacaville, exit onto I-505 North toward Winters
Merge onto I-5 North toward Anderson.
Take exit Exit 667B for Factory Outlets Dr/Deschutes Rd
Keep left at the fork to continue toward Deschutes Rd
Take Dersch Rd to CA-44 East
Turn right onto CA-44 East
Take CA-44 East to Forest Rte 32N21 (Butte Lake)
Turn left onto Forest Rte 32N21
The camp is about 16 miles down a wide dirt road. Drive slowly to reduce dust.
---
Team
Teaching Staff
Ron Liskey, Class Teacher
Tina Tian, Assistant Teacher
Chaperones
Steve Raffaini (Group Leader, Activities)
Patrick Bynum (Group Leader, Orienteering)
Jacques Janson (Group Leader, Outdoor Survival Skills)
Jay Grundle (Group Leader, Activities)
Jessica Strachen (Group Leader, Skits)
Jeny Sanchez (Group Leader, Activities)
Cynthia Owings (Group Leader, Activities)
Linda Odetto (Head Cook, Kitchen Prep and Sanitation)
Rachel Freed ( Astronomy)
Driving Groups
Steve Raffaini (13): Savanah, Brigette, Hayden, Alexis, Tadeo, Dante
Patrick Bynum (4): Percy, Jack, Spencer
Jacques Janson (4): Abi, Estreya, Sisi
Jay Grundle (2): Luke
Jessica Strachen (3): Cynthia, Flip, Emerson, Zephan
Jeny Sanchez (6): Sylvana, Tallulah, Marianna, Kate
Linda Odetto (0): Keven
Rachel Freed (2): Galen
Ron Liskey (0): Tina
Note: The number in (parens) indicates the total number of students you can transport, not counting the front seat. You can transport your own child in the front seat if you wish. Please contact me if this number is wrong.
Student Camping Groups
Each student group works together to camp, cook, clean up and maintain their area. All groups will help Linda Odetto maintain the central cooking area.
On hikes, we don't crowd the trail. No more than three student groups will hike together as one larger group.
| Students | # | Chaperones |
| --- | --- | --- |
| Percy, Emerson, Flip, Zephan | 4 | Jacques |
| Hayden, Alexis, Tadeo, Dante | 4 | Patrick, Jay |
| Jack, Kevin, Spencer, Luke, Galen | 5 | Steve |
| Savannah, Brigette | 2 | Jeny |
| Estreya, Sisi, Abi | 3 | Jessica |
| Tallulah, Marianna, Sylvana, Kate | 4 | Cynthia |
---
Location Information
Mt Lassen Park
Mt Lassen Park is known for its volcanic past, as well as its diversity of plants and animals. It contains 300 active volcanic domes and many hydrothermal features, such as mud pots and steam vents. Lassen Peak is the southernmost active volcano in the Cascades Range, and the second most recent volcano to erupt (1922) in the lower 48 of the United States preceding the 1980 Lawetlat'la eruption. (Also known as the Mt. Saint Helens eruption by recent immigrants).
Mt Lassen Park is home to over 700 species of flowering plants and 250 species of vertebrates, including birds, mammals, reptiles and fish. The park is at the junction of the Cascade Mountains, the Sierra Nevada Mountains and the Great Basin, thus providing many unique border habitats found nowhere else on earth.
Before invasion, the Lassen area was a meeting place for several indigenous peoples including the Atsugewi, Yana, Yahi, and Maidu. Because of its weather and snow conditions, high elevation, and seasonally mobile deer populations, the Lassen area was not conducive to year-round living.
Indigenous peoples chose to live in the Lassen area during warmer months to pursue hunting and gathering. Some of their cultural artifacts have been appropriated and are now on display in the Loomis Museum, along with replicas of basketry and hunting devices.
Descendants of these peoples still live in the area. They offer ancient teachings to the descendants of settlers to the degree that members of this very young and foolish culture can comprehend a people who did not seek maximum wealth through resource extraction. They have worked with the National Park Service to provide cultural demonstrations and to help visitors better understand both current and ancient cultures.
Butte Lake and Campground
Our campsites are B26, B34, B35, B37, B38, B39, B41 at the north end of B Loop. They are shaded darker ont the below map.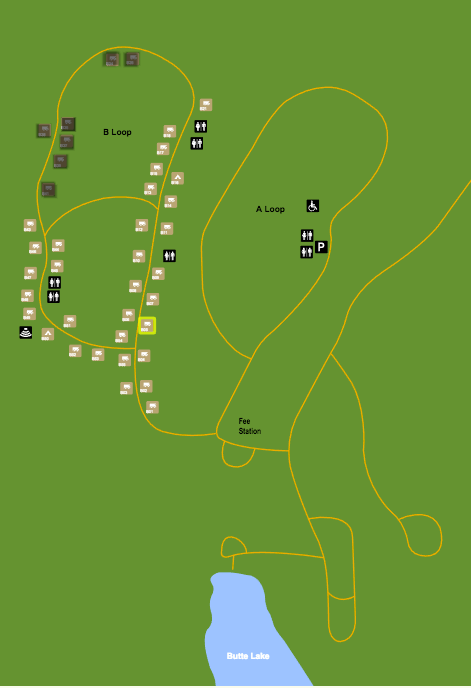 Butte Lake (elevation 6,100') is located in the northeastern section of Lassen Volcanic National Park and six miles south of highway 44 at the end of the (dirt!) Butte Lake road. The remote campground offers few amenities, but numerous recreation opportunities, including hiking up Cinder Cone, a dip in Bathtub Lake, or a paddle along Butte Lake's lava rock shores.
Butte Lake Campground is within easy walking distance of Butte Lake, which is popular for fishing, canoeing, kayaking and swimming. Several hiking and backpacking trails are located nearby. The facility is 45 minutes from the main park road.
The campground has a pleasant atmosphere dominated by Ponderosa pines. It sits on soft volcanic soils, and several ponds dot the landscape. Butte Lake has a large black lava flow running into it, creating rocky shores and interesting views for visitors in kayaks and canoes to explore.
Recreation: Outdoor enthusiasts stay at Butte Lake Campground for its many recreation opportunities. The lake is popular for trout fishing, as well as non-motorized boating. Within the facility, hikers and backpackers will find the trailhead for the Cinder Cone Trail, one of the most popular trails in the park that ascends a nearby volcanic dome. The Painted Dunes, Snag Lake and Bathtub Lake areas are also nearby. Facilities: This facility is more remote than other campgrounds within the park. Campers must travel on a six-mile gravel road to access the facility. For more information visit Campgrounds of Lassen Volcanic.
A non-motorized boat launch is convenient for kayaks and canoes. Flush toilets and running water are turned on during summer; vault toilets are available outside of the peak season.
Cinder Cone
The challenging trail up Cinder Cone allows visitors to experience the wonders of a relatively recent Cinder Cone Volcano. A leaflet for the Cinder Cone Nature Trail is available at the park visitor centers and the trailhead. Numbered posts on the trail correspond to stops in this leaflet that explain various features along the trail.
The sandy trail climbs gently at first, bordered by woodlands on the right and Cinder Cone's lava flow known as the Fantastic Lava Beds on the left. The trail steepens as Cinder Cone comes into view.
At 1.2 miles, the trail reaches a fork at the base of Cinder Cone. Look to your left (south) here for the first views of the colorful Painted Dunes. Be sure to take a break in the shade of the surrounding Jeffrey Pines before following the trail to the left (south) and beginning the heart-pumping climb to the top of the cone.
As the trail slowly circles around to the south side of the cone, Lassen Peak comes into view. The trail then continues to the top where climbers are rewarded with views in all directions. Prospect Peak, Lassen Peak, Snag Lake, the Fantastic Lava Beds and the Painted Dunes are all clearly visible. A separate trail continues down into the crater of Cinder Cone, where we will stop for a well-deserved snack break.
The Cinder Cone trail follows a portion of the Nobels Emigrant Trail. This trail was the second route, after Peter Lassen's route, used by European invaders to travel across what is now known to them as Lassen Volcanic National Park.
Hat Creek Area
The second largest surface level deposits of lava in California (after Lava Beds National Monument) stretch for over 20 miles in a dark, jagged, and mostly treeless expanse just north of Lassen Volcanic National Park. Features include cinder cones, lava tubes and small craters. The majority is trailless wilderness, part of Lassen National Forest, but the USFS has developed two sites, both near the small town of Old Station.
Subway Cave is characterised by particularly smooth walls and a neat oval cross-section.
The Spatter Cone area, is a 1.7 mile loop trail that visits several craters, cave entrances, fissures and other volcanic formations.
The visible results of volcanic activity in this region date from around 20,000 years ago, though the area is still geologically active, due to a fault line causing Hat Creek Valley to deepen relative to a steep escarpment (Hat Creek Ridge) to the east.
Subway Cave
Subway Cave is the most visited location in the Hat Creek area, and may be reached by a side road just north of the highway 89-44 junction, ending at a parking area with interpretive notices, rest rooms and picnic tables. The surrounding land is completely covered by lava, here sparsely wooded, with many of the trees burnt in a recent wildfire.
A very short walk leads to the cave entrance, where steps enable an easy descent to the floor. The passage extends both ways; on the left the cave has a rather low ceiling and is soon blocked by a fence, but the main section is to the right. The walkable part is only about a quarter of a mile, but this is more than long enough to be completely dark for some distance in the middle, and here are found two short branches, joining at a large central chamber.
The roof of the cave is smooth apart from small lavacicles, where lava dripped slowly down before cooling, while the floor is generally flat, formed of solidified lava ripples. The return to the trailhead is via a trail above ground, running on top of the cave, which forms a low ridge, winding across the surrounding lava.
Spattercone Interpretive Hike
The Spatter Cones trailhead is well equipped; a large parking area with drinking water, trail brochures, rest rooms and information about the local geology.
The path traverses a narrow band of tall, well separated Ponderosa and Jeffrey pine trees, crosses the Pacific Crest Trail then begins a 1.5 mile loop across an overgrown lava field, along which are 17 numbered stops corresponding to entries in the trail guide. Not all are interesting but some are, including lava mounds with hexagonal jointing, two good sized spatter cones enclosed by rings of colorful, weathered rocks, a vertical lava vent (fenced off for safety), and a smaller crater (Spatter Tube) drained by a tiny lava cave.
The trail also has long distance views across the open surroundings towards several much larger volcanic summits, highest being Lassen Peak, 12 miles south.
Bumpass Hell
Bumpass Hell is one of prime highlights of any trip to Mt. Lassen. It is the result of fissures that tap the volcanic heat (which is thought to be a cooling mass of andesite, perhaps three miles (5 km) below the surface)
Bumpass Hell is named after Kendall Vanhook Bumpass, a miner who worked in the Lassen area in the 1860s. K.V. Bumpass discovered the area and was named on a mining claim for the area. In 1865 the editor of the Red Bluff Independent newspaper took a trip with Bumpass to see the locale. During this trip K.V. Bumpass broke though a thin crust above a boiling mud pot, his leg was badly scalded and eventually had to be amputated. The area was named in his honor.
Bumpass Hell is the largest hydrothermal area in the park, and marks the principal area of upflow of steam and discharge from the underground hydrothermal system. The temperature of high-velocity steam jetting from Big Boiler, the largest fumarole in the park, has been measured as high as 322°F (161°C), making it one of the hottest fumaroles in the world. The steam heated waters are typically acidic and are not safe, even for bathing. Please stay on the trail and boardwalks for your safety.
Bumpass Hell can be reached from a well-marked 1.5 mile trail that starts from a parking area opposite Lake Helen. The trail is easy, though the altitude (8,000 feet) can make it seem moderately difficult. Hiking boots are recommended as the trail crosses generally rocky land with some tree cover, and without much change in elevation until the 100 foot drop into the thermally active basin.
Along the way, a short spur trail leads to a stunning panorama of peaks—actually the remnants of a massive volcano called Mount Tehama, which exploded some 500,000 years ago.
Your nose will tell you when you have reached Bumpass Hell. The rotten egg smell from naturally occurring gases is pervasive, as is the noise—–a strange ruckus created by belching mud pots and bubbling pools.
The active area can be seen (and smelt!) from far away—a wide basin filled with various steaming pools and unusual multi-colored soils, stained orange, brown, yellow and green by sulphur and other minerals. Together with the occasional white snow patches, the (usually) deep blue sky and the aquamarine waters, the spectacle is extremely beautiful and colourful. This truly is a glimpse into the awesome purgatory envisioned so long ago by wise Zarathustra.
There are many other lesseer known thermally active regions in the park, including:
Devils Kitchen
About 7 mi (11 km) southeast of Lassen Peak is Devils Kitchen. In this geothermal area the hot springs are so acidic that they have eaten pits and holes in the bedrock.
Terminal Geyser
Located in the southeast corner of the park, Terminal Geyser is not actually a geyser, but rather a cold stream flowing over a steam vent. This is about 100 feet (30 m) from the site of a geothermal drilling operation that took place in 1962 and 1978. The 4,008-foot (1,222 m) well is now plugged and abandoned.
Boiling Springs Lake
Just northwest of Terminal Geyser, large, warm-water Boiling Springs Lake has many hot springs, mudpots, and fumaroles along its west shore. Unlike the more heavily visited areas of the park, this area is not developed with boardwalks or signs and offers a chance to view thermal features in a more natural setting.
Lake Helen and Lassen Peak
Looking up at Lassen Peak, an almost treeless, silent mountain, rising to 10,457 feet (3,187 meters) in a turquoise-blue sky, it's hard to imagine that a century ago, it was rocked by violent eruptions that flattened trees and devastated the land for miles around. Lassen Peak last erupted in May 1914, but the heaviest devastation didn't occur until a year later, with massive mudslides and steaming clouds of volcanic gases. Steam eruptions continued until 1921.
One of the best spots to view Lassen Peak is from Lake Helen, near the Bumpass Hell Overlook. This high-elevation lake is often covered by snow and ice into midsummer, giving the lake an icy turquoise hue. Even in drier years it's a spectacular site. For a great picnic spot, aim for the lake's east shore.
---
Bear Safety
For centuries black bears have made Lassen Volcanic National Park their home. Their movements are dictated by ancient connections to the seasons, food sources, and their own inclinations. Bears are curious, intelligent, and potentially dangerous animals. When people do not take the proper precautions to protect themselves and wildlife, both bears and people are endangered. Please read the following information to learn more about bear safety in the park. Your actions help ensure your safety, and the well-being of Lassen's black bears
Be Bear Aware
Black bears have been sighted frequently in this area. Avoid potential bear encounters on the trail by making noise to make your presence known. Be particularly careful near streams, and when vegetation or terrain limits visibility. In developed areas, it is equally important to be diligent; always store food properly to avoid attracting bears, and never intentionally get close to a bear or attempt to feed it. Use pullouts to view bears near the road, stay in your car, and keep a distance of at least 300 feet (100 yards) at all times. As always, adhere to speed limits - speeding kills bears! Your actions help keep Lassen's wild animals wild.
Bears and Food
Odors attract bears to campgrounds and picnic areas. Allowing a bear to obtain human food, even once, often results in aggressive behavior. Remember a fed bear, is a dead bear. Help keep bears wild and alive by following a few guidelines:
• Properly store all odorous items such as food, garbage, food containers (empty and full), cookware (clean or dirty), toiletries, and bug repellent. • Secure storage locations include bear-resistant food lockers, or inside hard-sided vehicles with windows rolled up, or inside the trunk. • Only have food out that you are actually using; if you are not using it, please put it back in the food locker. • Never store food, garbage or toiletries in tents or sleeping bags. • Place all trash in bear-resistant garbage dumpsters. • Never leave your pack unattended. • Immediately report violations and all bear sightings to the campground host or the nearest ranger.
Please note that failure to follow food storage regulations is a violation of federal law and may result in a citation.
If You Encounter a Bear
Bears are territorial. If you surprise a bear close range (less than 300 feet), you may be intruding into its space. Most bear encounters end without injury, especially if you follow some basic guidelines and remember that your safety depends on your ability to calm the bear:
• Do not run! Bears can easily outrun you. Running may cause an otherwise unaggressive bear to attack. • If the bear is aware of you but has not acted aggressively, slowly back away. • If the bear is unaware of you, keep out of sight and detour behind or downwind of the bear. • Stay calm and remember that most bears do not want to attack you, they usually just want to be left alone. • Pick up small children immediately and stay in a group. • Do not drop your pack! This teaches the bears how to obtain human food and often results in the death of a bear. • Do not climb a tree. All black bears can climb trees.
If a Bear Approaches or Charges You
Do not run! Most bear attacks result from surprise encounters when the bear is defending their young or a food source, such as a carcass. • Bear experts generally recommend standing still until the bear stops and then slowly backing away. • If you are attacked, do not play dead—fight back. Concentrate your kicks and blows on the bear's face and muzzle. If you have bear spray, aim directly at the bear's face. • Stay calm. Bears may bluff their way out of an encounter by charging, and then turning away at the last second. Bears may also act defensively by woofing, growling, snapping their jaws or laying their ears back.
Bear Spray
Bear spray has been shown to be extremely effective in deterring bear attacks. Please keep the following in mind when carrying or using bear spray: • Use only bear spray. Personal self-defense pepper spray is not effective. • Keep the canister immediately available, not in your pack. • Follow the manufacturer's instructions, know how to use the spray, and be aware of its limitations, including the expiration date. • Do not use bear spray as a repellent! Do not spray it on people, tents, or backpacks. Under no circumstances should bear spray create a false sense of security or serve as a substitute for standard safety precautions in bear country.
---
DEET Insect Repellents
Many respond to fears about West Nile Virus (WNV) and the normal annoyance of mosquito bites by slathering on the insect repellent, especially on their children. The most common choice is a DEET-based repellent.
A study released in 2003 showed certain DEET-based products to be the most effective, in that they lasted longer than other products. But DEET-based repellents aren't just hazardous to mosquitoes. From a human health point of view, choosing a botanical-based repellent can make more sense.
How DEET works
DEET does not block the insects' recognition of attracting odor signals or cause an active avoidance behavior in mosquitoes and fruit flies. Actually, DEET is an effective repellent because it disrupts the insects' odorant receptors, which detect special odor signals the insect uses to locate a potential host or food source. DEET corrupts messages from attractive scents, and as a consequence mosquitoes and fruit flies lose their orientation.
The Hazards of DEET
DEET is a registered pesticide. DEET is short for N,N-diethyl-m-toluamide (also known as N,N-diethyl-3-methylbenzamide). It is a member of the toluene chemical family. Toluene is an organic solvent used in rubber and plastic cements and paint removers.
DEET is absorbed through the skin and passes into the blood. The Medical Sciences Bulletin, published by Pharmaceutical Information Associates Ltd. reports, "Up to 56% of DEET applied topically penetrates intact human skin and 17% is absorbed into the bloodstream."
Blood concentrations of about 3 mg per liter have been reported several hours after DEET repellent was applied to skin in the prescribed fashion. DEET is also absorbed by the gut.
The most serious concerns about DEET are its effects on the central nervous system. Dr. Mohammed Abou-Donia of Duke University studied lab animals' performance of neuro-behavioral tasks requiring muscle coordination. He found that lab animals exposed to the equivalent of average human doses of DEET performed far worse than untreated animals. Abou-Donia also found that combined exposure to DEET and permethrin, a mosquito spray ingredient, can lead to motor deficits and learning and memory dysfunction.
An emergency medicine bulletin notes that DEET may have significantly greater toxicity when combined with ethyl and isopropyl alcohols and freon which are components of some DEET repellents. In 1998, the US EPA made it illegal for any product containing DEET to make any child safety claims.
Required warnings
Products with DEET are required to carry the following instructions (often in very small type):
DEET should not be used at all for children under 6 months.
For children 6 months to 2 years, only concentrations of less than 10% DEET should be used, and only once a day.
For children 2-12 years old, only concentrations under 10% should be used, and repellents should not be applied more than 3 times a day.
For adults, Health Canada has banned products with DEET concentrations over 30%, citing health risks and evidence that increasing the percentage does not do much more to repel insects.
Health Canada has also banned two-in-one products which combine sunscreen and DEET, saying they create the potential for people be exposed to too much DEET.
Products containing DEET are now required to carry labels which specify:
Do not apply over cuts, wounds, or irritated skin.
Do not apply to hands or near eyes and mouth of young children.
Do not allow young children to apply this product.
After returning indoors, wash treated skin with soap and water.
Do not use under clothing.
Do not spray in enclosed areas.
Recommendations and precautions
Following these precautions reduces the risk, but does not eliminate it.
When using DEET, its best to wear long sleeves and long pants, and apply repellent to clothing rather than skin.
DEET-based products should only be applied sparingly; saturation does not increase efficiency.
DEET repellents should never be inhaled.
Alternatives
There are a number of effective, less toxic insect repellents available. They need to be applied more frequently than DEET-based repellents, but they do not carry the same health risks.
Two botanical repellents which performed particularly well in a Florida study were Repel Lemon Eucalyptus Lotion Insect Repellent (also marketed as FiteBite Plant Based Insect Repellent), which protected for 120 minutes, and Bite Blocker for Kids, a 2% soybean oil formula, which was effective for 95 minutes. Citronella products in the study provided about 30-40 minutes of protection.
In 2005, the U.S. Centers for Disease Control (CDC) granted approval to two healthier alternatives to DEET—picaridin and oil of lemon eucalyptus—for protection from mosquitoes.
Picaridin, long used to repel mosquitoes in other parts of the world, is finally available in the U.S. under the Cutter Advanced brand name.
Oil of lemon eucalyptus, which is derived from eucalyptus leaves and is the only plant-based active ingredient for insect repellents approved by the CDC, is available in several different forms, including Repel Lemon Eucalyptus, OFF! Botanicals, and Fight Bite Plant-Based Insect Repellent.
Some other good choices, according to the nonprofit National Coalition against the Misuse of Pesticides, include products containing geraniol (MosquitoGuard or Bite Stop), citronella (Natrapel), herbal extracts (Beat It Bug Buster) or essential oils (All Terrain).
The group also gives high marks to oil of lemon eucalyptus, such as that found in Repel's Lemon Eucalyptus Insect Repellent.
Another leading nonprofit, Pesticide Action Network North America (PANNA), likes Herbal Armor, Buzz Away and Green Ban, each containing citronella and peppermint as well as various essential oils (cedar wood, lemongrass, etc.).
PANNA also lauds Bite Blocker, a blend of soybeans and coconut oils that provides four to eight hours of protection and, unlike many other brands, is safe to use on kids.
Bug shirts or hats are an excellent, non-toxic method of protection.
Outdoor mosquito control tips
Mosquito coil smoke contains about 70 different volatile organic compounds including allethrin, phenol, benzene, toluene and xylene, all quite toxic especially when burned and inhaled.
Using yellow outdoor light bulbs which do not attract insects can help reduce mosquito populations at night.
Another option is to use a fan when there is little wind since mosquitoes are not strong flyers.
Planting mosquito repelling plants like lemon balm, catnip, basil and lemon geraniums around outdoor sitting areas and encouraging mosquito predators like bats and dragonflies can help reduce mosquito populations.
Sources